---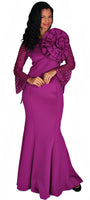 Form Fitting Upscale Dress
Style: D

1054

Features form fitting design with striped flared sleeves and bow tie trim

Feature  oversized floral trim.

Act Fast, Limited Quantities!

Sign Up for GMI Exclusive Rewards Program Just go to the bottom right of this page and you will see the "Sign up" spot, just click it and follow the instructions, it's very quick and really easy.